Our Super Splitter Blade Technology
There is a Difference between PVD and CVD coatings.
We offer the performance advantages of LSR-1 titanium carbide-coated blades that are used with converters and extruders. Also known as Super Slitters, these diffusion-coated blades have been designed especially for slitting hard-to-cut LLDPE films. Super Slitter Blades are CVD-coated, which is a chemical bond whose bond strength is many times stronger than achieved through the PVD process. CVD is typically used for carbide inserts, forming tools, and other high load applications. Due to the high processing temperature, all the steels and High-Speed Steels (HSS) must be heat-treated after the coating process.
With the Super Slitters' tough coating, they are extremely hard and wear-resistant. In addition, our blades maintain the consistency of the cut for a more extended time, so they last longer. As a result, production capacity is increased, and expensive downtime for blade changes is decreased.
Our blades are disposable and do not need re-sharpening. With their materials, they can stay sharp 5 to 35 times longer than others. These qualities are sure to save valuable time and resources.
Quality Materials Lead to an Extended Blade Life
The companies who have used our products have reported that our blades are more durable than any other blade. Our wear-resistant materials are super hard and sharp. Longer lasting blades will reduce your overall cost of tools and materials each year. Our products never need sharpening, decreasing downtime on your projects.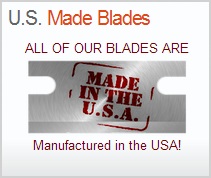 Get in touch with our team at (888) 612-9292 (toll-free). We can ship your orders directly to you. Our customer service team also welcomes any questions or requests.